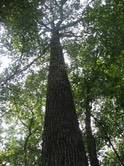 I was talking with a friend at an engineering firm last week, and they told me that Fulton County is no longer going out to sites to evaluate specimen trees prior to plan submittal. This is a growing trend among municipalities in Atlanta metro. 
The counties typically rely on the accuracy and professional standards of Certified Arborists to prepare tree information on site.
Some of our customers have been asking wether we complete specimen tree inventories and the answer is YES, of course, and we are quite good at it. We've been successfully preparing inventories in Cobb, DeKalb, Fulton, Gwinnett, Alpharetta, Roswell, and all over Atlanta.