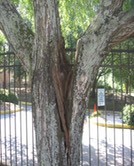 When storms cause damage over a wide geographical area, people tend to develop a general sense of apprehension, even fear, about trees. Our trees grow very tall in Atlanta, and very quickly too. They can be intimidating especially when you are standing under one.

To me a storm can seem like a wake-up call. Are my trees still safe? Will my house get it next time? After seeing how many trees failed this week, I made the decision to now remove a tree in my own yard - one that in the past, I've accepted a level of risk that was little higher than I would typically tolerate. …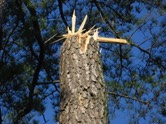 Trees break. Trees snap. Trees fall.

It is the order of all things green. Trees are designed to grow, reproduce, and collapse. It is an inexorable fate.

This week's round of downdraft storms reminds us of the fragility of all plant life. Dr. Alex Shigo called trees "the most massive, longest lived organisms on earth," yet eventually the old woody system fails so as to make way for the new. We manage, inspect, and care for the trees in our landscapes, but we just can't seem to predict when the strength of a storm will overtake the steadfastness of an oak.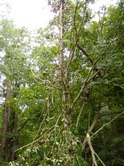 This morning, the metro residents were awakened to several hours of falling trees and limbs.
Although the weather system did not look particularly ominous, I struck out for my morning appointments. In northwest Atlanta, I was greeted by residential streets blocked by both dead and live trees that had toppled across the roadways. In one instance, as I backed away from a fallen tree in the Margaret Mitchell neighborhood, I caught a glimpse of a pine falling across the street behind me. I was now actually blocked on both sides!

I was able to get out of my Jeep, and quickly pull back enough of the tree top to create an escape route. …