Selecting a tree for the landscape is a bit of art, and a bit of science.  But a person does not need to be a professional artist or a scientist to pick the right tree, they just need to ask the right questions.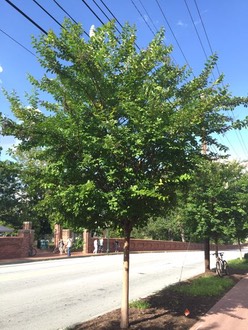 I like to jot down a list of all the trees that might work in a particular spot.  Then I start asking myself key questions that will help me narrow down my selection, crossing off the trees that just won't work.  What remains is my short list of top candidates for planting.  Here are the three basic questions that should be answered before trotting off to the nursery in your pickup truck:
What do I want this tree to do?
Here you are deciding how the tree will function in the landscape.  If the tree is to provide shade, you will want a wide and tall maturing tree.  If it is an accent, you will need to start thinking about color, texture, and amenities such as fruit and flowers.  Will the tree need to block an unsightly view?  Is it going to frame an architectural feature?Find out what it will look like at maturity and how large you can expect it to get in your growing region.
You can look all over the internet for this information, but I've found that online estimates of tree size can vary greatly especially on nursery websites.  I have a few trusted sources for tree size information.  One of my favorites is Michael Dirr's Hardy Trees and Shrubs.  The neat thing about this book is that it has a ton of lists in the back, allowing the reader to see what trees meet certain design criteria such as "attractive fall color", and "interesting bark."  Also consider the book Hutchinson's Tree Book by Bob Head.
Will the tree get everything it needs?
I'm talking about the basics.  Light, water, and room to grow.  Remarkably, trees actually require little maintenance to live but the exact amount of light and water can also make a huge difference in success rates.  Take the time to stand in the tree's shoes for a few minutes and position yourself in the planting spot.  Look east.  Look south.  Look west.  Are there obstructions, such as other offending trees, that might impede a struggling new tree?  Ask yourself if the tree will receive the right amount of sunlight.  Most trees need lots of sunlight to develop their personality, such as a particular leaf color, flowers, or fruit.
What are others saying about this tree?
Once you have narrowed down your tree possibilities, the last thing you will want to do is find out about other people's experiences with the plant. I like keep tabs on how certain trees are performing in the local area.  But, until there is a Facebook for trees, you are going to have to start making some calls.  Run some ideas by a design professional or the local garden club.  Find out if there are serious disease or insect problems with the tree.  The tree may make a lovely specimen in Britain, but in Georgia it may have a real bad reputation.  Also remember, that just because the nursery has thousands of them in stock, it doesn't make it a good choice for your landscape.
- Jesse M.